A speakerphone with voice recording and hub capabilities can be a powerful educational tool for all students and teachers. Here's how to shop for a budget-priced and user-friendly productivity tool for yourself, your children, as well as our best deals to buy.
Designed for Productivity
The HiDock is more than a gadget. It's a perfect blend of technology, practicality and productivity that has been ingeniously crafted to give the gift of time back to busy you. Imagine the ease of capturing conversations and ideas without missing out on any important notes in the lecture or putting up with the noise of online meetings. This means you can get things done in a more productive way in your learning and invest your time on more important tasks.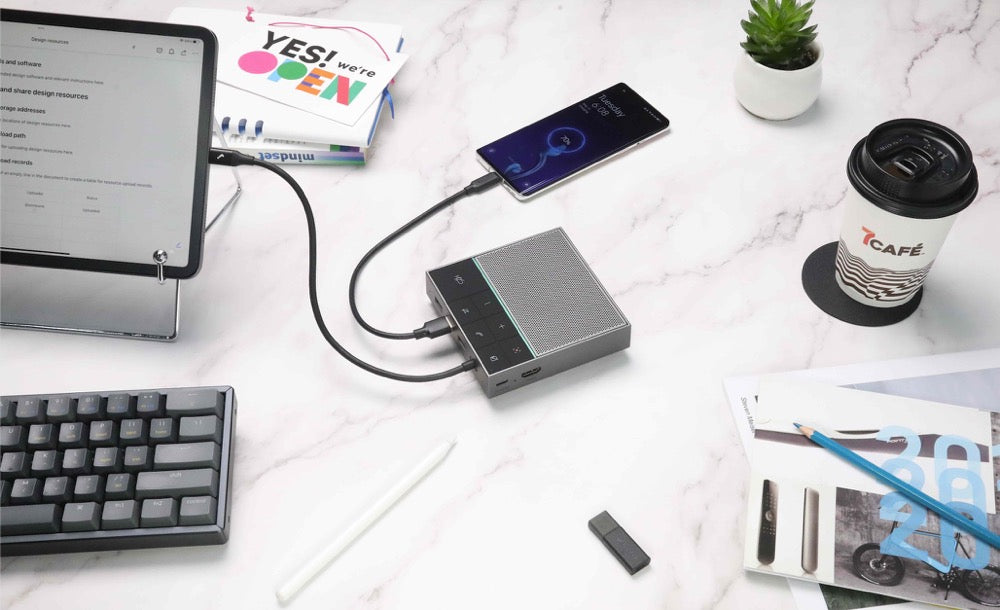 Productivity Hacks for You
Lecture Recording to Digest Knowledge
Can't jot down notes fast enough to keep up in class? Struggled with the professor's lecture especially not good at English or specific languages? For those students studying abroad, you may need a voice recorder assistant. Getting your lectures recorded first and then transcribing and translating them to organize the notes and help boost study efficiency. No more missing out on any notes your professor has highlighted in the class.
Catch Every Sparkling Idea in Brainstorming
A good scenario to use HiDock is during online brainstorming sessions with your team members in the college. HiDock will definitely be a lifeline to leave you more time on brainstorming and provide a noise-free meeting experience. When inspiration strikes, HiDock can catch the bright spark of the mind.
Review and Improve Further
It's recommended to record the presentations to review and learn. For teachers, it's very helpful to record your classes with HiDock to reflect on what you've said and improve further for the lesson preparation.
Time-saving Learning Tool for Podcasts
Instead of consuming a podcast or an online TED lecture, HiDock allows you to get the core information and digest the content with little time. Achieve more productive learning with such a productivity booster.
Streamline Desktop Setup
No more hub is needed for a perfect desktop setup. HiDock offers a 4K HDMI extension with a fast file-transfer USB 3.0 port reaching 5Gpbs and up to 100W delivery port. And it works with Nintendo Switch as well - indulge yourself with an invigorating movie or gaming break after a busy study life.
Back-to-school Sale 2023
This back-to-school season, we are excited to bring you a whopping 15% off sitewide with the coupon code HiDockBTS when checkout. Whether you're looking for a speakerphone or other productivity accessories, this promo code has got you covered. It's highly recommended to get the HiDock and travel case together into the cart as it's quite portable to take them to the classes on campus.
Meanwhile, you will receive a USB-C Extension Cable for free by purchasing HiDock or HiDock Lite, even if you're not a current student, you can still participate and get a free prize with your eligible purchase. The promotion is available from now until August 18. Order yours now to snag the great deal and a free gift.
Score big savings and achieve more for a more productive and successful new school year!