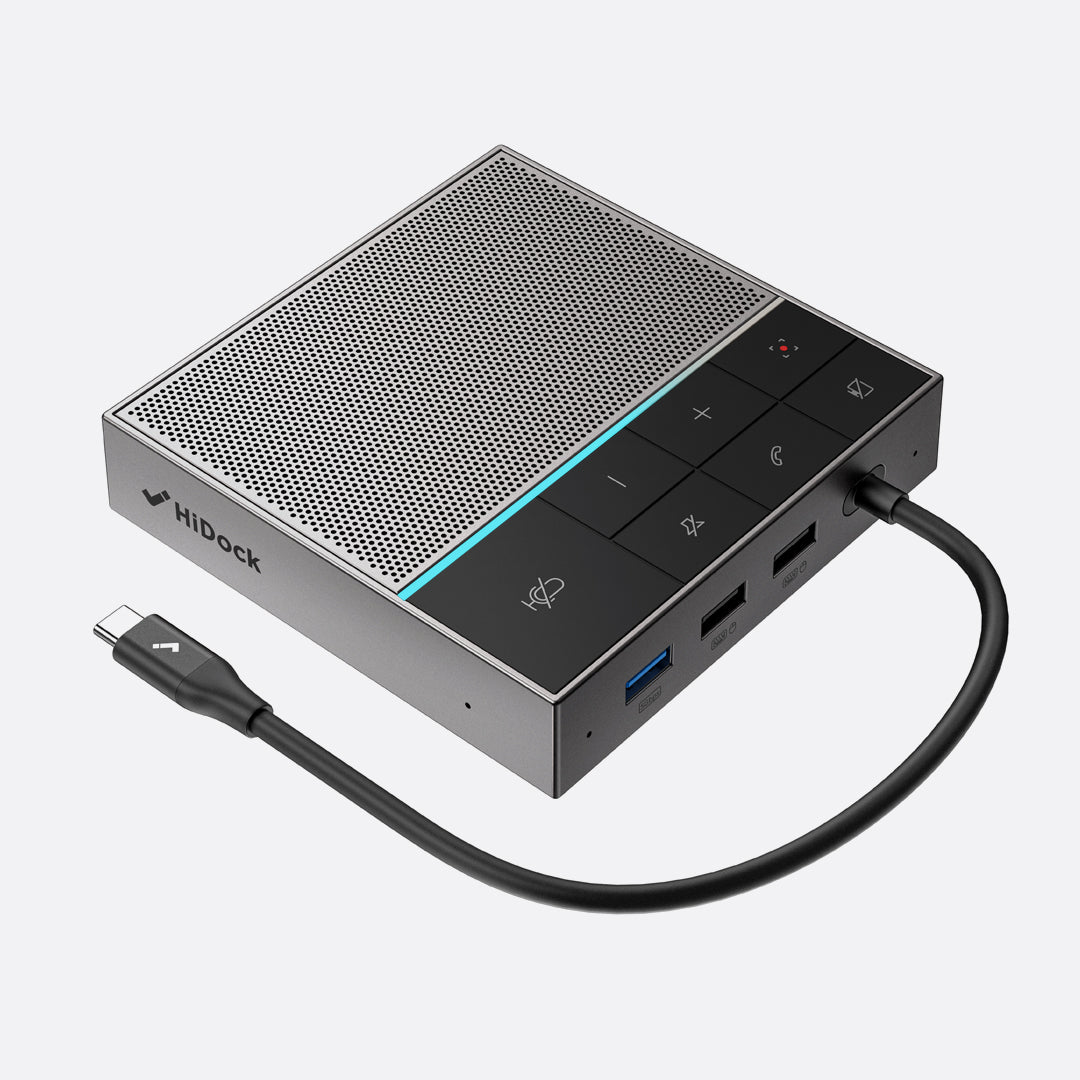 HiDock Speakerphone for Home & Office
32GB Free Storage / 500 Hours Voice Recording
AI-powered Voice Tracking and Strengthening
Patented Noise Reduction up to 45dB
100W PD USB-C, 4K HDMI, USB 3.0 5Gpbs
All-in-one Dock Perfect for Home and Office
Compatible with Zoom, Teams, Skype and more
---
Please refer to the Shipping Policy for more specific shipping information.
Professional for Hybrid Work
HiDock is a conference speakerphone designed specifically for hybrid work combining speakerphone, voice recorder and USB-C hub capabilities into one compact box. Simply plug HiDock into your laptop and turn any place into the ideal workspace.
Voice Recording to Capture Anything
One click to record and capture all the important ideas without breaking the flow of the meeting to write anything down. With the 32GB free storage, HiDock will be your right hand man for the meeting recording.
360° Ultra HD Voice Pickup
Patented with VoiceZoom™ algorithm, HiDock reduces the background noise up to 45dB while maintaining high-fidelity audio for you to enjoy crystal clear calls without any distractions.
Clear Call from Any Background
Walk around freely in the meeting room and no worry about whether the voice can still be heard clearly from your participants' side on the remote meeting.
Plug and Play to Project
No wireless pairing, no driver installation. Connect HiDock to your laptop or tablet, it just works to start projecting without scrambling though various documents.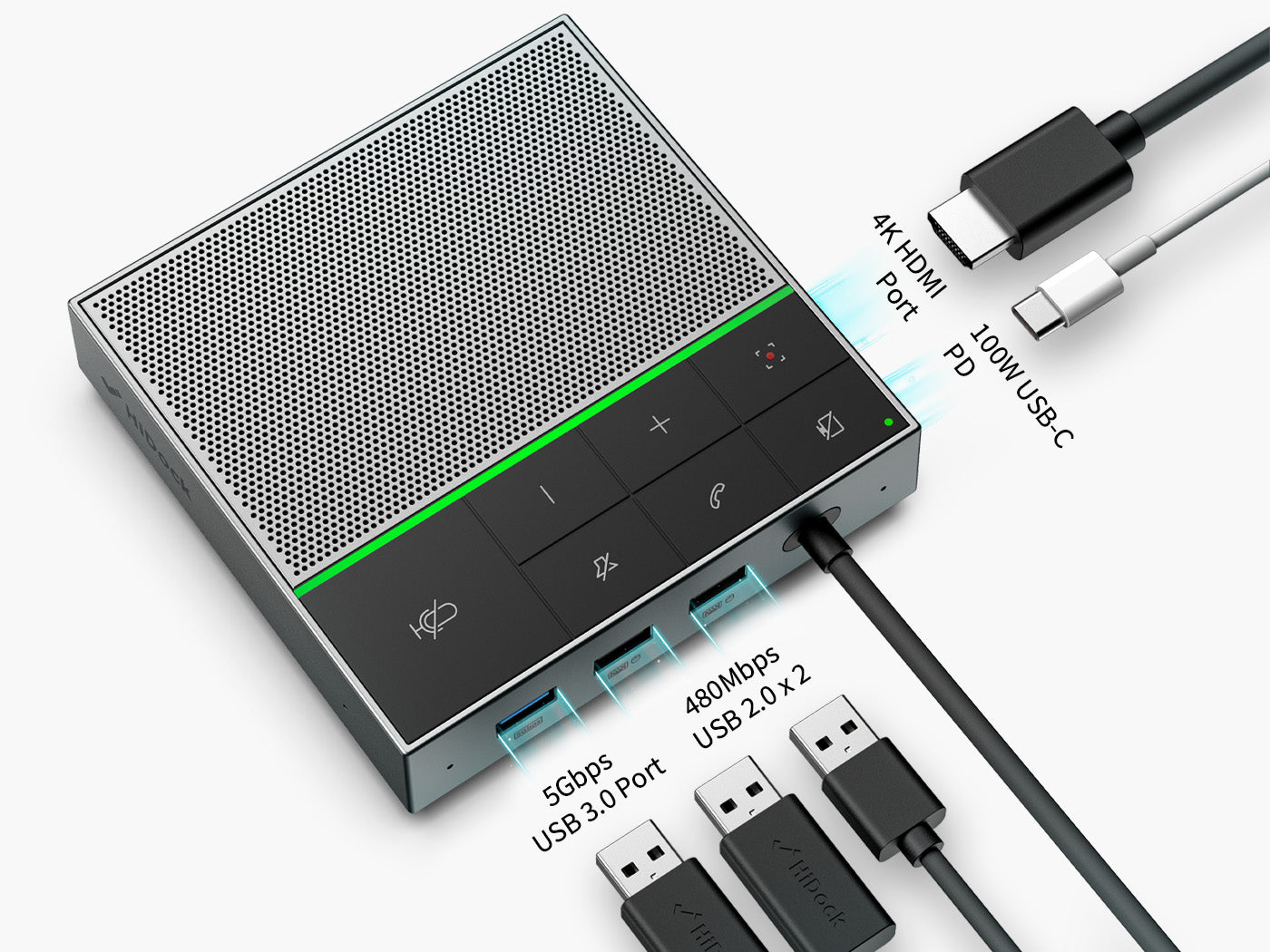 5-in-1 Hub Capabilities
Even when your computer ports are in use, you can still easily connect additional devices with HiDock to transfer files, charge your phone.
Compatible with Multi Apps
Compatible with the leading conference apps like Zoom, Microsoft teams, Bluejeans and more, HiDock will lead you to a seamless and productive meeting experience.
Dimension
4.5*4.5*1.3 inch / 114*114*32 mm
Microphone
4 Omni-directional microphones
Ports
4K@30Hz HDMI Port * 1
5Gbps USB-A 3.0 * 1
480Mbps USB-A 2.0 * 2
USB-C * 1
100W USB-C PD3.0 * 1
Compatibility
MacOS, iPadOS, Windows, Linux
This product is rated 5.0 of 5.0 stars.
It has received 16 reviews.
Speakphone with hub
Awesome speakerphone hub that you can use during Zoom calls. With recording capability, you will like the clear sound.
Overall great speakerphone with excellent audio clarity
Lots of features with good support & excellent audio clarity. We were able to hear eachother perfectly without any hiccups. The various conferencing software we use were able to detect it without issue as well! Good build quality that doesn't look ugly or basic like other speakers.
Useful for PC conference calls
We all have been in a conference call via the PC and the audio of others is horrible. With this device, you will have a clear audio for others, so no one will complaint on how you sound. It has all the functions needed as mute, hand up among others. My personal favorite is Record. Just press that button and it will record that conversation.
Great for online meetings
I ordered this speakerphone to use it for Teams meetings, and it is great!
It is plug and play, I didn't have to do anything. I just selected it both for speaker and microphone in Teams settings and it was good to go.
The sound is clear on both ends, even if you are 10ft away. The mute/end call/volume controls work perfectly. The record button is a great addition, as you can record without using the software. The device will be seen as a memory drive, and the recorded file will be stored there.
The light strip is nice looking, giving clear indication of the device's status.
It has three USB-A ports that are useful. I missed an USB-C output port though. The cable is way too short in my opinion.
Overall, I am satisfied with the product and I highly recommend it!