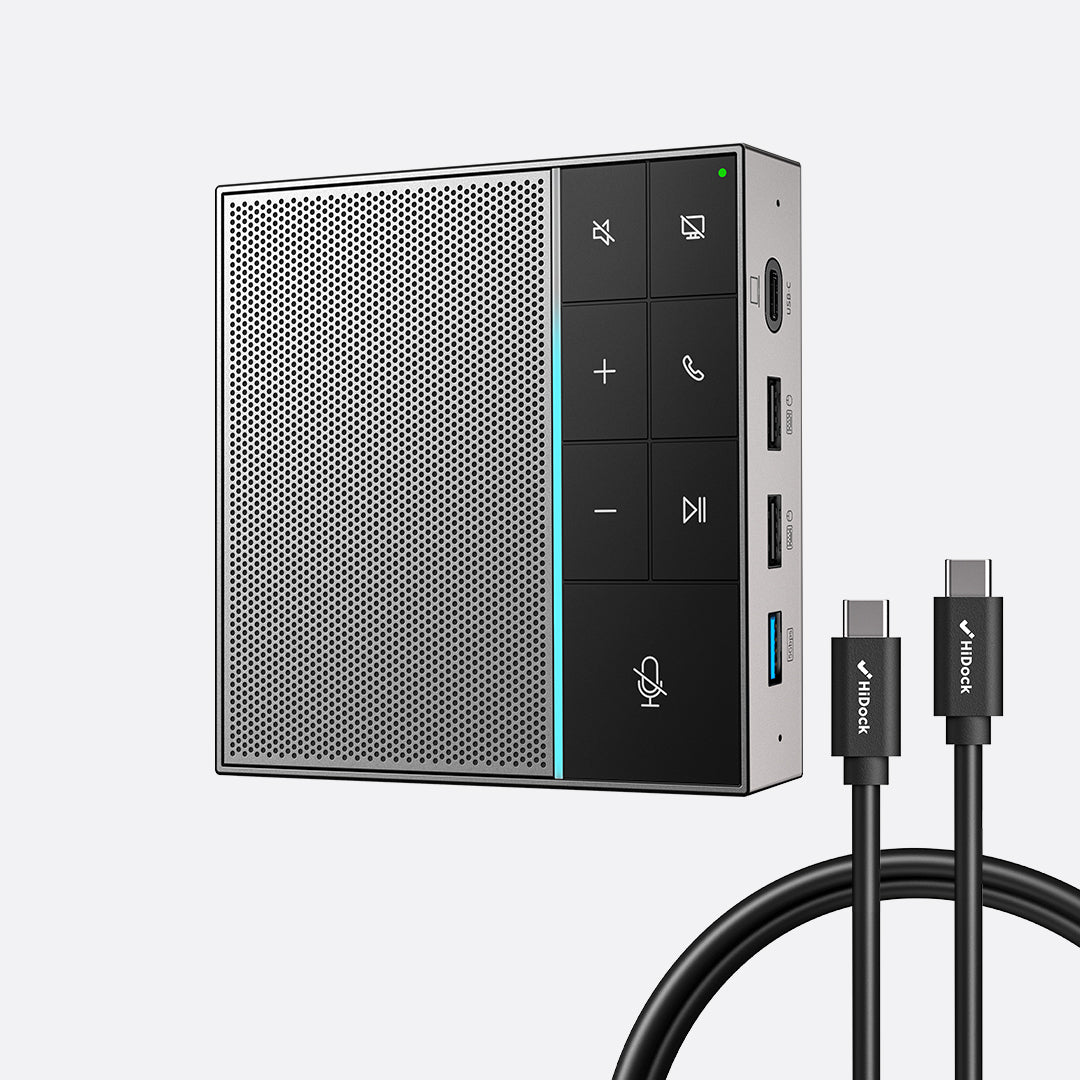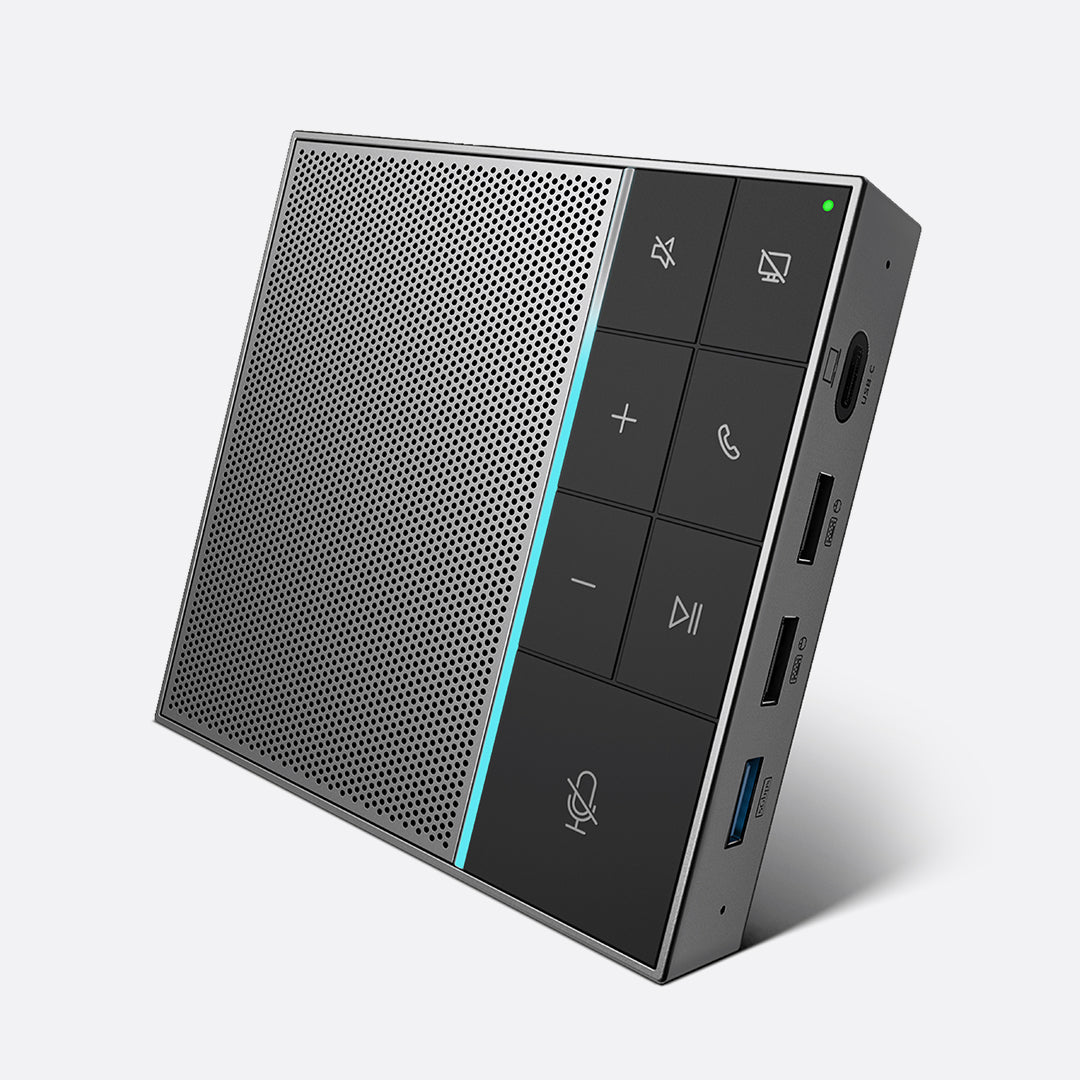 HiDock Lite Conference Speakerphone
360° × 16.4ft Ultra HD Voice Pickup
4 Omni-directional Microphones for HD Sound
Patented Noise Reduction up to 45dB
100W PD USB-C, 4K HDMI, USB 3.0 5Gpbs
Detachable Cable for Hybrid Work
Compatible with Zoom, Teams, Skype and more
---
Please refer to the Shipping Policy for more specific shipping information.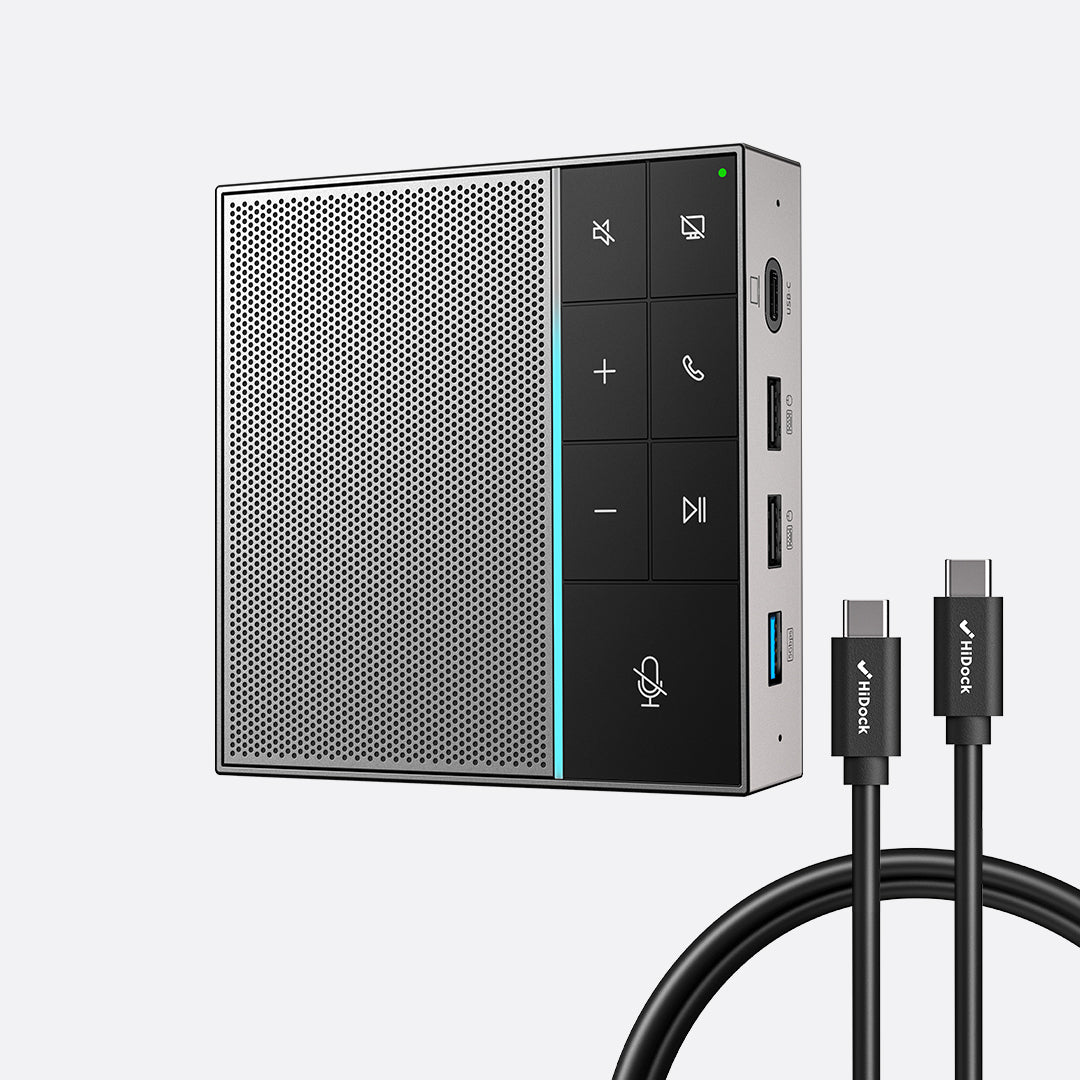 Professional, Productive, Portable
HiDock Lite, the all-in-one conference speakerphone with USB-C hub capabilities, makes you enjoy a seamless and clutter-free hybrid work experience no matter at home, office, or cafe.
360° Omnidirectional Audio Pickup
360° Voice coverage in the meeting room without being limited by the capabilities of your laptop. Walk around freely and the voice can still be heard clearly.
Patented Noise Reduction
HiDock's patented VoiceZoom™️ algorithm reduces up to 45dB of background noise and provides exceptional voice clarity - allowing you to be heard clearly in noisy environments.
Clear Call From Any Background
The industry-leading VoiceZoom™️ algorithm enhances the voice clarity and eliminates noise distraction, providing you with a crystal-clear and smooth online meeting experience.
Speaker Tuned for Vocals
The AcousticMaze sound cavity that eliminates all standing waves and provides controlled resonance for the 1.75-inch High-Fidelity speaker, ensuring the meeting voice is reproduced with pristine clarity without any discomfort.
Streamline Your Work Station
HiDock offers a 4K movie quality HDMI extension with an extremely fast USB 3.0 port reaching 5Gbps and up to 100W Power Delivery ports. No more hub is needed for a perfect work setup
Work with Online Conference Tools
Experience seamless and wide compatibility with popular conference tools, effortlessly meeting the demands of your daily meeting schedule.
Dimension
4.5*4.5*1.3 inch / 114*114*32 mm
Microphone
4 Omni-directional microphones
Ports
4K@30Hz HDMI Port * 1
5Gbps USB-A 3.0 * 1
480Mbps USB-A 2.0 * 2
USB-C * 1
100W USB-C PD3.0 * 1
Compatibility
MacOS, iPadOS, Windows, Linux
This product is rated 4.8 of 5.0 stars.
It has received 6 reviews.
Prompt support
Good quality product with closed loop service.
Decent audio playback and recording, displays to HDMI, recording not usable on android phone
This works well for a small speaker and recorder, HDMI output works well and can record to MP3 files to internal 32GB storage. In testing the recorder works but while files show up in Android it does not seem to have the ability to play them even with music apps, the phone does not know how to handle when this goes from connected to recording and then back properly. Windows PC was able to access and record fine. Could be nice to record group meetings so multiple people can record though not sure how this is better than recording and then sharing the file another way. I think it would be way better if this could record audio and perhaps screen capture I could see the use for that for documentation reasons or for something like recording gaming things.
Ideal laptop dock, mic sound quality is average
I love this for docking a laptop, and it has all the hardware buttons that I want for conference calls. My only quip is that the mic quality isn't the best. Mic quality aside, the form and function are all ideal, great especially for travel, to add some additional conference functionality on the road.
good quality speakerphone
This speakerphone allows clear and crisp sound to come from your cell phones phone. call.
Great Speakerphone with Cool Recording Features
This speakerphone works great. It is beautifully crafted and has some amazing features. I'm a big fan of the recording feature. It lets you record conversations directly to the device to review later. I'm a big fan of this speakerphone as it also handles video pass-through to your screen. The one reason it's docked 1 star is that it doesn't get loud enough for all of my situations. The speaker sounds crisp and clear for talking and communication but it doesn't have a great speaker for music. The mic is amazing and it takes out all the background noise that I've used it around.
Overall, this is a fantastic speakerphone for home office use or a small conference room, but I'd not recommend it for a large conference room.