Summary - Why
We are an audio startup team supporting global customers with tech-reliant remote collaborations. After discovering that conference equipment is expensive to buy, hard to use, and difficult to receive support with, we decided to build our own devices. Our first product, the HiDock, addresses each pain point so that professionals can work more productively than ever.
To find out more, read the article below 👇
The Origins & 'Why' of HiDock
We are a startup focusing on digital audio processing technology. For the past 5 years, we have provided Amazon Alexa-certified audio-front-end (AFE) solutions to global brands in both consumer electronics and automobile industries.
While remotely supporting our customers, we tried, used, and implemented different products and brands to improve collaboration. It didn't take long to realize that high-end products come with an even higher price tag, cheaper versions rarely live up to specification claims, and that they all usually come with difficult-to-receive support!
We found some extra issues, too. Everyone likes having a neat table and desktop setup, but they become chaotic and cluttered with wires when monitors, laptops, USB hubs, speakers, microphones, and cameras are connected.
We knew that if we faced these problems, every other freelancer, startup, small business, and home worker (aka laptop heroes) would too.
It got us thinking. What if we built a multipurpose device to enhance meeting efficiency, inspire peer collaboration, and boost creativity – no matter where you work?
We decided to put our digital audio algorithm and hardware development skills to the test, building a device that solves the problem of endless cables and distractions. The plan was to make something with enterprise-grade equipment but consumer-grade access and support for laptop heroes like you.
Our team started with an ugly (correction: preliminary) prototype. We had all the parts we needed: a Type-C hub, our microphone array, and a standard USB speaker. We inserted the USB speaker into the hub and taped everything together – and it worked.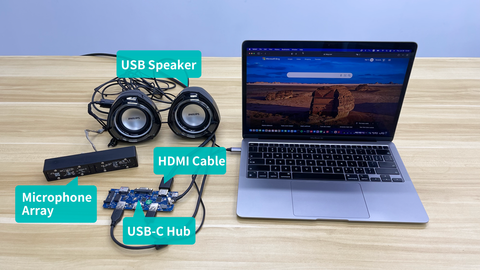 We called it the 2-in-1 Dock & Speakerphone, and we immediately knew we were onto something. To test the device, we placed it in the meeting room and asked for team feedback. Everyone liked it, as they now only needed to bring their laptops to meetings. It couldn't be simpler for them!
With this device, we could connect the speaker, the laptop, and the big monitor simultaneously – ideal for meetings in both the office and at home.
After a few weeks, the team discovered something the prototype hadn't addressed: the ability to power laptops during meetings. So, we searched for and integrated a power delivery system for the device.
We eventually found one, and the prototype was ready. It had a good microphone, a powerful speaker, a 4K resolution HDMI adapter, a 100W power delivery port, and high-speed USB 2.0/3.0 ports. It was almost ready to be shipped out to customers – but there were still some finishing touches to make.
We knew the prototype would save laptop heroes a ton of time and effort setting their everyday working up. However, as believers in the power of design, we also wanted to create an affordable device that would look super on any desk.
Over the next two years, we took our prototype to the next level. We completely redesigned the architecture to boost performance and reduce cost. We created an asymmetric microphone array and an acoustic maze cavity to offer enterprise communication without heavy investment.
After months of consumer research, we found something that almost every professional hero feels anxious about: meeting controls. So, we invented the AntiOops™ control panel.
To achieve high reliability and low manufacturing costs, we built the test and tools by ourselves. That's right: sometimes you reinvent the wheel because you rethink the design.
Our efforts have led to the HiDock, a one-of-a-kind device making it easy to work from anywhere.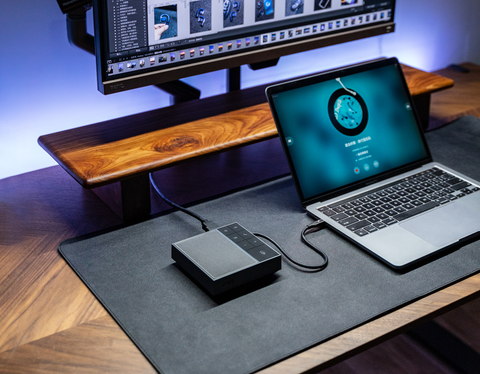 Our goal is for HiDock to help laptop heroes improve their way of working. We hope that when you close the lid after work, you look forward to opening it again tomorrow. We hope you find it easier to communicate and, in turn, become more confident around partners. Most importantly, we hope you manage to get things done wherever you work.
Interested in staying up to date with HiDock?
Want to read more insider stories?
Register for our newsletter!